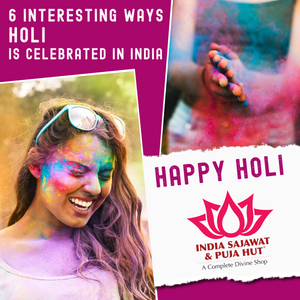 6 Interesting Ways Holi is Celebrated in India
HOLI HAI! A crowd screams while vibrant colours tease the sky. Holi is a vibrant festival celebrated by Hindus all over the world. The celebration marks the spring season and is celebrated with grandeur throughout the country. On the full moon night people throughout the country gather wood and light a bonfire. People make various offerings into the fire praying that all their negativities are removed, and to have a prosperous new start.
It is believed that on the full moon day that Vishnu appeared as the form of Narashima (the half man and half lion) to save his devotee Prahladha from a fire sentence that his uncle Hiranyakasyap gave upon him for not worshipping him. His Aunt Holika had a boon that if she wears a shawl she would never catch fire. Hiranyakasyap knowing the boon sent his sister to sit in the fire and kill Prahaladha. While sitting a huge gust of wind came and blew off the shawl and ended saving Prahaladha from the fire who was praying to lord Vishnu.
The next day is celebrated as Rang wali Holi, or coloured filled Holi. People gather in streets to play, smearing each other with rich pigments of colours from the morning to the afternoon. Throwing water balloons and squirting others with coloured water is another tradition that also takes place. Celebrations for Holi and other spring festivals can last for weeks in certain states in India. Here are some interesting ways Holi is celebrated in various states.
In Goa, Holi is part of a larger springtime festival called Sisirotsava. Celebrations last a month with various activities.

In Ahmedabad Gujarat, a pot of buttermilk is tied over the streets, and young men form a pyramid trying to break the pot while the girls try to stop them by throwing coloured water onto them. This reenacts the time Krishna tries to steal butter while the gopis try to stop them.

Sirsi, Karnataka has a unique folk dance called Bedara Vesha which starts from 5 days before Holi.

Manipur celebrates Holi for 6 days with the festival called Yaosang. The youth perform Thabal Chongba, a traditional dance performed on the full moon night.

Holi fools! In Punjab, Holi is associated with making pranks. Joke tha Ji.

In Mathura, Uttar Pradesh Holi is celebrated in a unique fashion called Lathmar Holi in the Radha Rani temple. Women take sticks and beat their spouse who in return have shields. Thousands watch on the sideline in hysteria over the event.
Over the years due to the Indian diaspora, Holi has taken a popular turn from other cultures as well and has been celebrated in other parts of the world.
Want to enjoy Holi as well. Don't worry we got you coloured. Holi coloured powders are available in our Brampton puja store.
India Sajawat & Puja Hut
31 Melanie Drive, Unit 5
Brampton, Ontario
905-458-6808
www.pujahut.com
pujahut11@gmail.com
---